So Why Should I Make Videos Using VideoMakerFX?
The top marketers know the incredible power of an awesome well made video. It's been proven time and time again to boost conversions and sales. Here's just a few of the many reasons…


It's no secret that video has a magical effect on your viewers and customers.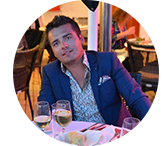 It's been proven time and time again that video converts up to 3x better in combination with a regular sales letter. The most successful products and services out there always have a video promoting them.
But before we go any further, you're probably wondering who I am and why I'm telling you something you may already know.
I'm Peter Roszak
I've been a long time marketer in all sorts of small niches and honestly I struggled with video. I was great with graphics and photography, but could never get the whole thing on Video and I was just really bad at making them, honestly my 6 years old cousin could make better videos then me.
Video is complex and it just isn't easy to produce… I'm talking about a video that can actually guarantee you an INCREASE in SALES and get you FRESH leads.